Loretta Young Show
(1953-1961) Long-running, half-hour drama anthology series hosted by actress Loretta Young. In addition to hosting the seres, she played the lead in various episodes.
---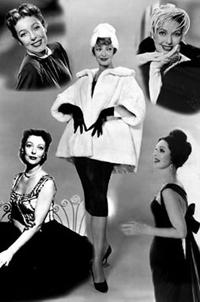 Vol. 1: Act of Faith 2/14/1954 Loretta Young, Eddie Albert. Lionel take it seriously when his sister implies that his wife is being untrue.
Son, This is Your Father 3/28/1954 A mother fears she will lose the love of her son because of the behavior of his irresponsible father.
The First Man to Ask Her 4/4/1954 An impossible father has managed to run off all of men interested in his daughters, except for one rodeo bullrider.
Forest Ranger 4/18/1954 The man responsible for putting a criminal behind bars is targeted by the convict after his escape.
Vol. 2: Big Little Lie 1/24/1954 The daughter of a widowed TV star starts a rumor that her neglectful mother is about to have another child.
New York Story 2/28/1954 Snooty society mother becomes concerned about her missing son and changes her attitude.
Man's Estate 4/11/1954 A boy runs away from home to escape his rigid, demanding father.
Nobody's Boy 3/7/1954 Delinquent young boy in reform school tries to contact the father in prison he has never met.
Vol. 3: Count of Ten 3/14/1954 An ex-fighter considers going back into the ring. He needs the cash to care for his seriously ill wife who's in the hospital.
Clara Schumann Story 3/21/1954 The story of composer Schumann's wife.
Trial Run 9/20/1953 First show in the series. Comic episode with Loretta playing the clerk at a perfume counter who marries an upper class customer and meets his family.
A Family Out of Us 2/7/1954 A mother attempts to give her son the attention that he isn't getting from his father.
Prisoner at One O'Clock 10/4/1953 The sheriff in the town of One O'Clock helps a lynch mob that's wanting the man accused of murder. The officer's wife helps the innocent man escape.
Vol. 4: Girl on a Flag Pole 10/11/1953 A teacher wins a car on a game show, but will not take the prize.
Turn of a Card 10/18/1953 A mother fears she will lose the love of her son because of the behavior of his irresponsible father.
Earthquake 10/25/1953 A polio patient must rise to the challenge when an earthquake knocks out the power--and his iron lung.
The One That Got Away 11/1/1953 The man she didn't marry becomes famous, but her husband doesn't care.
Kid Stuff 11/8/1953 The sucessful editor of a magazine falls in love with a lovely widow with a young boy.
Vol. 5: The Bronte Story 11/15/1953 The father of author Charlotte Bronte is against her plans for marriage.
Laughing Boy 12/6/1953 A muscle-bound stranger with a glass jaw comes into a woman's life.
Love Story 11/29/1953 A beautiful actress convalesces from a failed romance with Broadway clown Happy Hooten.
Thanksgiving at Beaver Run 11/21/1953 After committing a burglary, three teeagers escape in the car of a pregnant woman.
Vol. 6: The Faith of Chata 12/13/1953 Young Chata seeks death so she can meet her patron saint.
The Night My Father Came Home 12/20/1953 A fatherless boy pesters a postal employee to send letters to Santa asking for his dad to come home.
Hotel Irritant 12/27/1953 A rich woman staying in a New Orleans hotel annoys the manager to test hotel service for the owner.
Inga #1 1/3/1954 A Minnesota woman who hires ex-cons to work on the farm becomes involed with the troublemaking son of a local leader.
Vol. 7:Lady Killer 1/10/1954 A mystery writer becomes involved in two murders thanks to a case of mistaken identity.
Secret Answer 1/17/1954 Alva, a successful sculptor, is reluctant to fill out the divorce paperwork that asks "reasons for divorce".
The Mirror 9/27/1953 A lawyer's social-whirl, frenetic wife runs into a crazy woman in her vacation home.
Hollywood Story 1/31/1954 Starstruck actress goes to Hollywood to make good in pictures. Her big chance comes, but....
---