Café Roxy Matinees!
Café Roxy Matinees recreate the movie-going experience of the 1930s thru 1960s with a variety of short subjects -- cartoons, serial chapters, newsreels, comedy shorts, coming attraction trailers and more -- before the feature film. Each Program has its own colorful movie poster. If a poster looks exciting to you, then it will attract your audience as well. You can print out the poster and add showtime info, or use the poster image on your own website.
Looking for something else? Pick your own Classic Features, which we will be happy to customize with a few cartoons if they are not already in the "Just Classics" series. Hundreds of TV shows from the 1950s are also available from Betty White to Dragnet to Bonanza.
Please email us at fesfilms@aol.com to request a Free Sampler DVD Program!
Café Roxy Weeks & Weeks of Fun!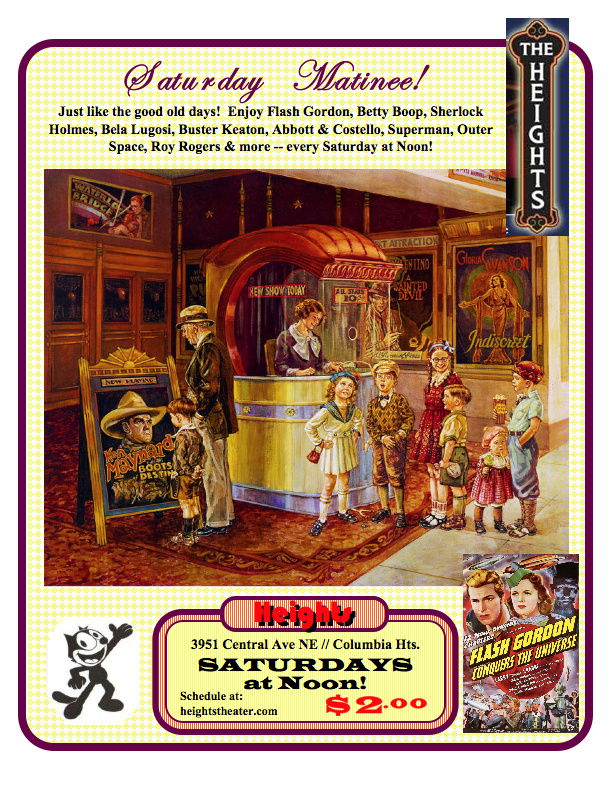 Each 12-part series is tied together by an adventure serial that will bring fans back week after week to see how the hero escapes the explosion, crushing robot, closing walls or car going over a cliff! You can show individual programs or an entire series week after week.
Click on each genre to see 12 movie posters that promote 12 different shows!
12 Weeks of Saturday Matinees!
12 More Saturday Matinees - Series #2!
---
The Roxy Specials!
Buster Keaton & Charlie Chaplin Carnivals!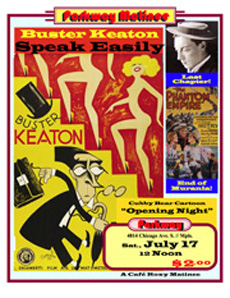 Vintage Television & Cartoons!
COMEDY TV NIGHT - Vol. 1
My Little Margie: "Miss Whoozis"
The Adventures of Ozzie & Harriet: "The Duenna"
The Lucy Show: "Viv Visits Lucy"
The Beverly Hillbillies: "The Clampetts Strike Oil" (first show in the series!)
"In My Merry Oldsmbile" Cartoon Sing-Along
Plus old TV Commercials!
CRIME TV NIGHT - Vol. 1
Superman Cartoon: "Showdown"
The Adventures of Sherlock Holmes: "The Cunningham Heritage" (first in the series!)
Dragnet, with Jack Webb: "The Big Producer"
Man With a Camera, with Charles Bronson: "Close-Up on Violence"
Racket Squad: "Romance Unlimited"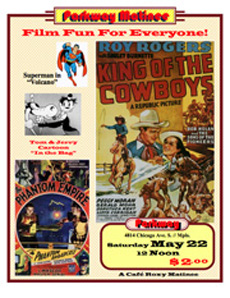 ADVENTURE TV NIGHT - Vol. 1
Superman Cartoon: "Mad Scientist"
"Zorro's Fighting Legion" Serial, Chapter #1
The Adventures of Robin Hood: "The Coming of Robin Hood" (first in the series!)
The Roy Rogers Show: "Loaded Gun"
Ramar of the Jungle: "Lady of the Leopards"
CARTOON CARNIVAL - Vol. 1
Gertie the Dinosaur (1914)
Felix the Cat in "Comicalamities" (1928)
Walt Disney's "Alice's Egg Plant"
"Balloon Land"
"Popeye Meets Sindbad"
Betty Boop in "Poor Cinderella"
Superman in "Mechanical Monsters"
Tex Avery cartoon: "Doggone Tired"
A George Pal Puppetoon
Plus Mickey Mouse, Bugs Bunny, Woody Woodpecker & More!
SILENT COMEDY NIGHT - Vol. 1
Felix the Cat in WOOS WHOOPEE (1928)
Our Gang Kids in DERBY DAYS (1923)
Charlie Chaplin in THE PAWN SHOP (1916)
Harold Lloyd in NUMBER PLEASE (1920)
Buster Keaton in THE BOAT (1921)
Monte Banks in CHASING CHOO CHOOS (1927)
---
Return to Movie Activities!