Pricing for Movie Memories
Each Volume of Movie Memories with onscreen questions and Discussion Guide is $59.95.
4-Pack Discount: Any 4 Volumes with 4 Discussion Guides, 70 Movie Memories, hundreds of catalyst questions, and hours and hours of Activity Fun is... $195.00.
Purchase orders are accepted, or we can simply bill any retirement, senior or health care facility.
Please call Ron Hall at 952-470-2172 or email me at fesfilms@gmail.com to discuss your particular situation.
---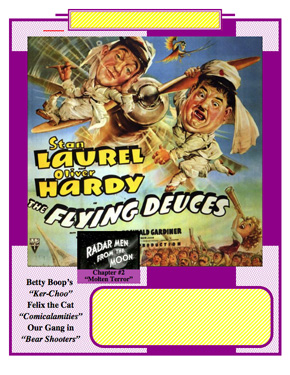 Café Roxy Matinees
Café Roxy Matinee Programs are $25.00 each. They are also ideal viewing for seniors who enjoyed the matinee experience in theaters when they were growing up.
Each program is advertised on its own poster, like the one shown here for "Flying Deuces," a serial chapter, two cartoons and an Our Gang short. You can use the posters to promote your own showings by printing them out and adding your time and date info, or by using the image on your own website.
The special content of Café Roxy programs is © by Festival Films. We grant permission to use Roxy shows on TV and elsewhere, but they may not be duplicated and re-sold.
If any DVD becomes defective within a year, it will be replaced at no charge.
---
Orders may be placed by email to fesfilms@aol.com, by phone or fax to 952-470-2172, or by letters sent to:
Festival Films
6115 Chestnut Terrace
Shorewood, MN 55331
We accept Visa, Master Card, Paypal, personal checks made out to Festival Films or purchase orders from institutions.
Movie Memories are licensed for unlimited use within the institutions they are sold to. Public performance rights are granted for such use. Movie Memories are copyrighted and may not be duplicated without permission. Television broadcast, other than closed circuit broadcast within the institution, is prohibited. Internet and other such uses are also reserved.